How to create Real Estate videos like a Pro
Still using slideshows to sell your listings?
How's that going for you?
I'll bet you can't watch your own Real Estate videos…if you can't watch that painful slideshow…how do you expect a buyer to get through it?
If you want to list and sell more houses you need to take advantage of the current marketing methods, Real Estate videos and social media are here to stay, you either get it or you don't.
If you get it, what I say next will get you excited, very excited; because you know with what you are about to learn in my new book will propel your listings to the first page of real estate searches in your targeted market.
If you don't get it, well keep doing what you're doing, and continue to watch your listings and commissions quickly disappear every year.
Or you can pay attention and start using social media and video to market yourself and your listings.
Click Here to order Amazon's Best Selling guide for Real Estate Video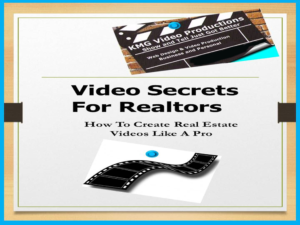 Learn how to shoot better video and create stunning trailers for Real Estate listings in my new book.